How Do I Earn Vote Points?
Edit
Step 1. Log on to the main website (https://rebirth.ro)
Step 2. After you log on, click on the image as shown. It can be found on every page on the right hand side.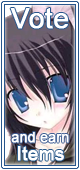 Step 3. You will be brought to this page (https://rebirth.ro/account)
Step 4. Click on the 2 images that are shown on the page. They look like this.

Step 5. After you clicked on them, they will disappear. You can click each one, once every 12 hours. You get 1 point per image clicked, so you can earn 4 points per day.

How Do I Redeem My Points Once I Voted?
Edit
Step 1. Log into the game
Step 2. Move your character to Prontera.
Step 3. Visit the Vote Point Redemption NPC located in the mall (@go mall)
Abuse of this system will lead to a permanent IP address ban, without warning.