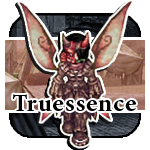 Truessence is known for his Assassin Cross on the Loki server.
He's a nice guy, and really smart, too.
Truessence retired from PvP and WoE early 2009. He returned to a very laggy internet around late May/early June of 2009. He sadly retired from the entire game in August 1st, 2009, but makes rare visits.
Even though he has never cared for e-pride or anything useless like that, he was voted by the general population as one of the best SinX's to play the server.
90% of the time he does not wear a shirt.
He has a crush on the following people: Johnny Depp, Edan, Bob Barker, Gabbie (I'm watching you..)