Nuit Blanche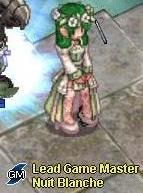 Position:
Lead Game Master
Server:
Loki
Location:
USA
Takes Care Of:
Hacking/scamming issues
Punishes wrong-doers
FBH/HW transfers
Events
General Support
Some donation issues
Addition Info:
Owns several varieties of whips
Languages Spoken
English, Russian, French (A Bit)
Nuit Blanche is the Lead GM on the Loki server.
She can fart 50 times a day
She's a JAILBAIT. o:
Although she is fluent in many languages, she seems to always need a translator.